Top coat F11 in Melbourne

At Ultra Shade, we can provide premium top coat car care products that help to protect and preserve the aesthetic appeal of your vehicle. We offer a range of solutions for you to choose from, including Topcoat F11 in Melbourne as a DIY kit or applied by us professionally. Whether you want to protect the paint of your car from weathering and damaging elements such as bird droppings and acid rain or you want to maximise the depth of colour and restore appearance to showroom condition, our top coat for cars can meet your needs and leave you feeling satisfied with the results.

Save time: Easy one-step hand application polishes in less than half the time it takes to wax!
Safe for use on all your vehicle's surfaces, eliminating the need for other costly products.
Polished surfaces are extremely hydrophobic (water-resistant) making F11 an ideal water repellent on all glass windows/windshields!
F11® maximizes depth of color & shine with minimal effort.
Clear formula: No unsightly white wax residue left behind!
Coated surfaces are easier to maintain, remain cleaner longer!
The more you use F11, the more protection it provides
Saves time & money, one bottle of F11® does it all!
USE ON EVERY SURFACE
TopCoat F11 will not only give your finish a showroom shine, but thanks to our proprietary, water-based formula it is safe to use on all surfaces and will not cause cracking, fading or damage, like other products.
A LITTLE GOES A LONG WAY
After the initial coating, you can use as little as 2oz for additional layers on your vehicle. Inside the home, one spray will take care of just about any surface, making a 16oz bottle of F11 a tremendous value.
EXTREMELY WATER-RESISTANT, WATER BEADS UP AND SLIDES OFF
The fancy term for this is "hydrophobic", which means that water will not stick to a surface treated with F11. This makes it great for windshields, as it improves visibility and makes your drive safer.




RESTORES AND MASKS FINISH IMPERFECTIONS
Not only does Top Coat F11 make your finish look fantastic, but as you use it, it begins masking imperfections (such as swirl marks) in your finish. Microscopic cracks and scratches that used to let dirt in get filled, sealed, and prevent future corrosion.




PROVIDES NON-TOXIC AND ECO-FRIENDLY PROTECTION TO YOUR FINISH
Since F11 is water-based (rather than chemical-based), it is safe to use around your children and pets, as well as in the home. And unlike some other products, there is no runoff that risks polluting the environment.




SIMPLE 2-STEP APPLICATION SAVES YOU TIME AND EFFORT
Spray it on, hand buff it in. That's all you have to do. Now making your entire vehicle look like new takes only minutes instead of hours.





Some info:
TOP COAT F11 POLISH & SEALER is MADE IN AMERICA🇺🇸 and is designed to replace, out-perform, and out-last any other traditional cleaning, sealing, and polishing product! This kit consists of (1) 16oz. Spray, (1) 2oz. Travel Size Top Coat F11 Polish & Sealer, and (2) High Quality Microfiber Towels. F11 is created with a water-based, non-stick formula making it Eco-Safe with no VOC's, solvents or abrasive compounds.
MAXIMIZES depth of color and shine with minimal effort and takes less than half the time to wax! No need to get out buckets, brushes, or cleaning gear; apply this multi-purpose sealer in a simple, one-step hand application that is quick and effective. F11 makes your polished surface water-resistant and makes it the ULTIMATE wax replacement sealer for your car, motorcycle, RV, boat, or plane, and does NOT leave a white wax residue.
STREAK- FREE and RESTORES vehicles to their showroom shine! F11 Top coat Polish & Sealer is designed to be slicker, with improved depth of color and micro-scratch concealment – formulated for detailers and serious enthusiasts. Multi-layer applications enhance products performance from protection to shine.
PROTECTS and reduces harmful effects from bird droppings, bug splatter, acid rain, brake dust, weathering, or dirt & debris on any surface. Top Coat F11 also covers up light surface abrasions such as spider-web scratches/swirls. Keeps coated surfaces cleaner longer, AND makes it simpler to maintain!
SAFE to apply in closed spaces! F11 can also withstand high temperatures and isn't flammable, making it great for engines, glass stove tops, grills, etc.
The Benefits of F11 Top Coat for Cars
When you buy F11 Top Coat, you can expect the following benefits:

Easy to apply in one simple step, with results in minutes rather than hours
Safe to use on most car, motorbike, boat and plane surfaces
Eliminates the need to use other more expensive products
An ideal water repellent for glass windows for improved visibility while driving
Maximises depth of colour and shine
Keeps coated surfaces cleaner for longer
Fills microscopic cracks and scratches
Prevents future corrosion and other issues
Non-toxic and eco-friendly
Safe to use around children and pets

Compared to wax, F11 Top Coat for cars takes less than half the time to deliver noticeable results and leaves little to no unsightly residue behind. Unlike other products, the proprietary water-based formula of F11 will not cause cracking or other forms of cosmetic damage. Professional detailers and serious enthusiasts are sure to be satisfied with the multi-layer applications of this product.

What Makes Us Different?
If you're thinking "I don't know where to buy F11 Top Coat near me", Ultra Shade has you covered with the best products and services. Our points of difference include:

We're backed by over three decades of experience
We customise projects to suit your budget and requirements
We strive for 100% customer satisfaction
We offer the best pricing
We also provide tinting, signage and other services

Next time you're wondering where to buy Topcoat F11 in Australia, you can't go wrong choosing Ultra Shade. We take your safety, security and comfort very seriously.

Buy F11 Top Coat Today
Make Ultra Shade your first choice when you want to buy F11 Top Coat for cars. You can reach us by calling (03) 9996 0426 or submitting an online enquiry and we'll get back to you as soon as possible. We'll do our best to answer your queries and provide the quality paint protection solutions you need.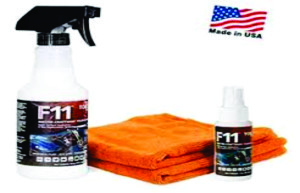 Make an Enquiry
Make an enquiry to please complete your details below or call us on 0418 335 858